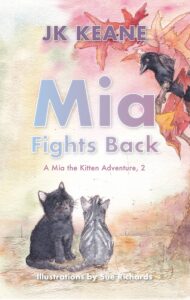 Mia Fights Back

The long-awaited second book in the Mia the Kitten series.
Release date October 2023.
Two kind teenagers, a feisty goat, and a Scottish pony join the cats and forest animals in this exciting adventure story.
Mia is Lost
Mia is a curious, cheeky kitten looking for adventure. Tempted by the mysterious forest behind her back garden she ventures in. Soon she is lost.

Night falls, a thunderstorm strikes and hungry foxes prowl.

Will Mia's friends find the scared kitten before it is too late? The neighbourhood cats ask a wise owl to lead the search.

Bats with superpowers, two kind deer, a forgetful squirrel and a nosy hedgehog all play their part in this big-hearted animal adventure story that will keep children and adults hooked.

"Alone we can do so little
Together we can do so much."